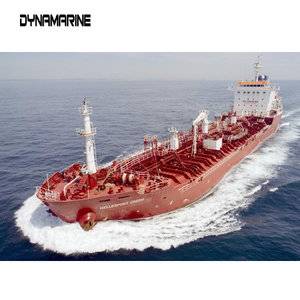 13000dwt stainless steel chemical tanker for sale
Product Details
The vessel to be designed as a ice classed tanker for petroleum products and chemicals according to Class notation and technical
construction, compatible with cargo tank material. The vessel to be a single decked, single screw motor ship with machinery and accommodation located aft. Double bottom and double skin to be arranged in way of cargo tankregion. HFO tanks in engine room arranged with cofferdams against outershell.
The cargo tank section to be subdivided by six (6) transverse bulkheads and one longitudinal bulkhead at the centre line. Slop
tanks and one cargo drain tank to be arranged aft of cargo tanks. All cargo and slop tanks to be of 2205 duplex stainless steel material.
The cargo area to be separated from the collision bulkhead by a cofferdam and thruster room.
Cargoes : Petroleum products and chemicals, with specific gravities up to 1.55t/m3, which can be lawfully carry according to Class Notation,technical construction and cargo system, and not harmful to vessel'scoating.
Main dimensions:
Length o.a., abt. : abt. 119.99 m
Length b.p. : 113.80 m
Breadth moulded : 22.00 m
Depth moulded, abt. : 11.40 m
Draft, design : 8.50 m
Draft, scantling : abt. 8.50 m
Gross tonnage: Abt. 8,500t
No. of cargo tanks: Twelve (12) cargo tanks, all smooth walled /Two (2) slop tanks on deck
Speed: 13.0 knots
Fuel consumption: Abt.12.9 t/day with fuel LCV 42707kJ/kg under ISO conditions
Complement: 18 p
Capacities: Cargo tanks (100%, incl. slop ) : abt. 14,300 m3
Ballast water tanks : abt. 5,000 m3
Heavy Fuel Oil (HFO), storage, serv. : abt. 500 m3
Marine Gas Oil (MGO) : abt. 90 m3
Lub. Oil : abt. 50 m3
Fresh water tanks - potable : abt. 150 m3
Classification
BV I XHULL, XMACH, Oil tanker / Chemical tanker IMO type II,
ESP, Unrestricted Navigation, Ice Class IC, AUT-UMS, MON-SHAFT, IGS,
VCS
Cargo pumps: Twelve (12) x 335 m3/h, 110 mLC, S.G 0.8 t/m3, 1,0 cSt, stepless HP hydraulic or electric motor driven, submerged centrifugal pumps with buil
on air-stripping system, stainless steel AISI 316L. One pump for each cargo
tank.
Propulsion Plant: One (1)
Type : WARTSILA 5X35 or MAN equivalent
Output : Abt. 3485 kW
Speed : abt. 142 rpm