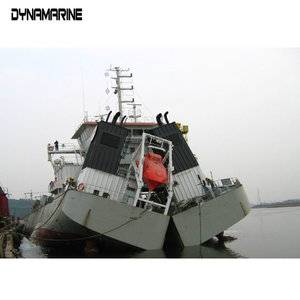 1500 CBM Split Hopper Barge
Product Details
1500 CBM Split Hopper Barge
The navigate area of this split hopper barge is coastal area of Singapore,and it can
load and delivery mud .
This vessel is steel, single deck, mixed framework, fore & aft elevatory deck, double
diesel engine, double propeller, double rudder, type of stern engine split hopper barge.
Classification Society :RINA
Dimensions of ship type
Length, over all 68.40m
Length, designed water line 67.08m
Length, b.p 64.80m
Breadth, moulded 13.80m
Depth, moulded 5.20m
Designed draft 4.30m
Speed ~10kn
Complement 12p
Gross tonnage 1497t
Net tonnage 449t
Capacity 1523.60m3
Mud Hold (FR27~FR89) ~1523.60m3
F.W.TK. (P&S) (Stern~FR1) ~100.10m3
F.W.TK. (FR14~FR15) ~2.12m3
F.O.TK. (P&S) (FR18~FR23) ~74.14m3
D.O.TK. (P&S) (FR18~FR23) ~2.64m3
F.P.TK.&F.W.B.TK.(P&S) (FR100~Stem) ~ 230.00 m3
Machinery Part
Main engine
Type:K38-M (CUMMINS)diesel engine two sets.
Rated Power:596KW×1800r/min.
Type of gear box:HCT800/1,9.12:1
Main diesel generator. three(3)sets
Opening equipment
The ship adopts two open cylinder body, cylinder diameter: 630mm; piston rod diameter:
320mm;stroke:2550mm;working pressure:25Mpa;rated pressure:31.5Mpa;
examination pressure:37.5Mpa