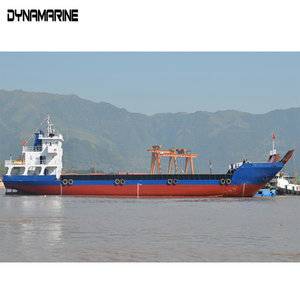 1300DWT DECK BARGE/LCT for sale
Product Details
TYPE:SELF PROPELLER DECK BARGE
-------------------------------------------------------
DWT 1300 MTS ON 2.5 M DRFT
BLT 6/2016 AT JIANGSU CHINA
CLASS RINA
LOA 63.4M
BEAM 15.2M
DEPTH 3.5M
MAIN ENGINE:2* CUNMMINS KTA38-M 582KW @1800RPM
The vessel suitable to carry port Fr50-57 hold 30 t aviation kerosene, port Fr57 50 t - 65 hold shipment
Gasoline, diesel can be shipment of fresh water and the rest of the oil tank, can load the container on deck, in the stem department sets by Electric hoist control lifting a springboard for transportation vehicles and ships), two side is equipped with ship midship region H = 1800 mm self-propelled barge deck coaming.
(All details given in good faith but w.o.g.)
Vessel presently trade in Asia and inspectable by agreed.
Details available against named interests.
--
China Office:Floor 12th,No. 86 Guang Xian Road,Hi-Tech Zone,Ningbo,China
Moble phone:+86 13738865101
Tel:+86 574 83061229
skype:captainwangtingqi
AS BROKER ONLY