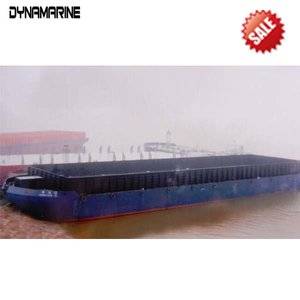 300 ft Unmanned Deck Cargo Barge
Product Details
300ft Non propeller deck cargo barge
The vessel is to be all welded structure with two(2) skegs.
The hull is to be divided by eight (8)transverse watertight bulkheads and three (3)longitudinal watertight bulkheads into thirty three (33) compartments.
Non propeller deck cargo barge suitably equipped for carrying deck cargos for unrestricted service.
Principal Particulars
Length Overall : 300' 0"(91.50m)
Breadth Moulded : 80' 0" (24.40m)
Depth Moulded : 18' 0" (5.50m)
Deadweight : 7800T(approx)
Deck Loading : 7 tonnes/m2
Classification
The vessel is designed suitable for registration as a deck cargo barge and constructed in accordance with the latest rules and regulations of Bureau Veritas of Shipping(BV, hereinafter referred to as Classification) for unrestricted service and to their special survey to hull for Class for Unmanned Deck Cargo Barge.
Notation Symbol: BV A1+Barge
(All details given in good faith but w.o.g.)
Vessel presently trade in Asia and inspectable by agreed.
Details available against named interests.
--
China Office:Floor 12th,No. 86 Guang Xian Road,Hi-Tech Zone,Ningbo,China
Moble phone:+86 13738865101
Tel:+86 574 83061229
skype:captainwangtingqi
AS BROKER ONLY