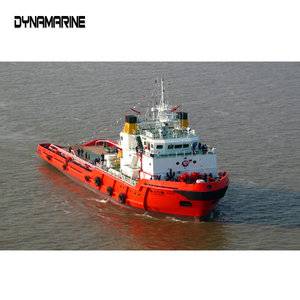 5000HP ASD Tug boat for sale
Product Details
Four (4) unit sister 5,000 BHP ASD TUG FOR SALE
Built 2016 (Brand new, ready for delivery EX shipyard, in Shanghai)
Designer: Robert Allan, Canada
Class: ABS, ASD Towing Vessel, Escort, MLC-Accom Unrestricated Navigation.
LOA:32M
Breadth:12M
Depth:5.42M
Draft:4.19M
BP ahead:65T
BP astern:68 MT
FIFI pump: 1x2800m3/hr (FIFI I)
M/E:2 x Niigata 6L8HX, 2 x 1838kw at 750rpm, Japan
Z-Drive Propeller: 2 x Niigata ZP-41A, Japan
Generator set: Commins 2 x 145kw, 1x 60kw made in UK
Free speed: 12.5 kn
LNG terminal service.
price idea: "mid/Low 6" million USD per unit basis delivery EX Shanghai area.
delivery time: the first two units are finished sea trial, and ready for delivery, the next two unit can be arranged delivery 2 or 3 months later!
(FYI, the owner is very close to us, can fully guide commercially basis further negotiations. )
--
China Office:Floor 12th,No. 86 Guang Xian Road,Hi-Tech Zone,Ningbo,China
Moble phone:+86 13738865101
Tel:+86 574 83061229
skype:captainwangtingqi
AS BROKER ONLY