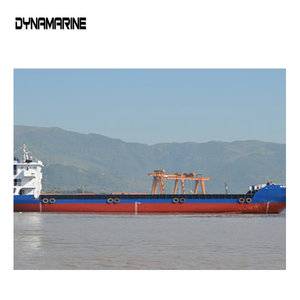 Product Details
5185dwt DRY CARGO SHIP
Self-propelled dry-cargo ship of the II restricted navigation area, with three cargo holds, in-tended for transportation of general, bulk, timber and bulky cargoes, containers of international standard, dangerous cargoes .4S, 2, 3, 4, 5, 6. , 8, 9 and coil.
Architectural-structural type of the shipSteel single-deck double-screw motor ship, with a forecastle and poop, with aft arrange-ment of deck-house and engine-room, with a double bottom and double sides in the region of cargo holds, three holds, with a inclined bow and transom aft extremities.
The ship is designed with possibility to exploitation on the inland water of Russia Federation.
Navigation area and operation condi-tionsSea areas conforming to a restricted navigation area II (in rough seas with a wave height of the 3%-probability of exceed 7.0 m, at dis-tance from a place of refuge not more than 200 miles and at permissible distance between places of refuge not more than 200 miles).
Main dimensions
Length Overall 123.17 M
Length Between Perpendiculars 118.63 M
Breadth 16.50 M
Depth 5.50 M
Draught At Sea, 4.20 M
Deadweight (Draft 4.20 M At Sea) 5185 T
Draught In River, 3.40 M
Deadweight (Draft 3.40 M In River) 3528 T
Capacity Of Cargo Holds 8595 M3
Capacity Of Ballast Tanks 2485 M3
Container Capacity Total 240/120 TEU / FEU
Container Capacity – Deck 60/30 TEU / FEU
Container Capacity - Hold 180/90 TEU / FEU
Machinery
Main Engine Zjmd-Man B&W 8l23/30
2×1080 Kw
Diesel Generator Chong Qing Cummins,
CCFJ160J 3 X 160 Kw, 400V, 50Hz
Bow Thruster Schottel STT 60L-FP 1 X 120kw
Ship Speed 10.0 Kn
Gt* 4879
Nt* 2618
Class RS
КМ ★ LU II А3