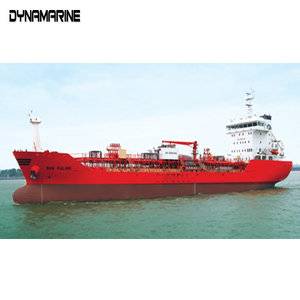 9200dwt IMO II stainless Steel Chemical Tanker for sale
Product Details
The chemical tanker of a 11.100 m3/ 9.200 DWT Stainless steel tanker for Chemicals and Oil Products.
The vessel is divided in forepeak, bow thrusters room, 2 x 7 tanks for cargo and 2 x 7 wing tanks with DB tanks for WB, engine room, after peak with steering gear room. Tanks for FO to be arranged in engine room.
Main particulars
Length over all abt. 129.5 m
Length between perpendiculars 124,8 m
Breadth moulded 20,0 m
Depth moulded to main deck 9,60 m
Draught, design 7,10 m
Deadweight, corresponding . 9.200 ton
Classification:
DNV 1A1 Tanker for Oil Products / Chemicals, ESP, ICE 1A, EO, HL (1,54),
TMON, BIS, NAUT-AW, Clean, INERT, ETC, BWM-T.
Tank capacities
Cargo tanks 98% 11,100m3
Water ballast tanks abt 5,000 m3
HFO incl. settling and daytanks abt 400 m3
MGO incl. settling and day tanks abt 125 m3
Technical freshwater tanks abt 160 m3
Potable freshwater tanks abt 90 m3
The ship to be equipped with 16 electrical operated deepwell cargo pumps, one
pump for each cargo tank and slop tank.
main engine (type):One (1) Make MAN B&W 5S35ME-B9.3 or similar
Output: approx. 3200 kW at MCR, 130 rpm
stroke speed : 600 rpm
Gearbox type: GWC66.75, Nominal rate I=4:1
Cargo pump:14 sets x Deep well pump Fromo 200m3/h
Cargo tank coating :316L