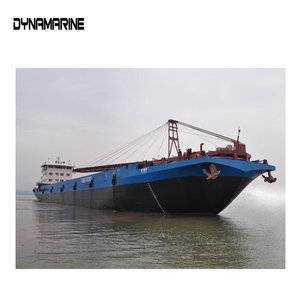 self unloading carrier/coal carrier
Product Details
3000dwt self unloading coal carrier
The vessel is a SELF-UNLOADING CARRIER with a deadweight of 3000t, which is designed as
double screw driven by two (2) high speed diesel engines, and one complete continuous freeboard deck and two levels of deckhouse,and the acc. deckhouse are located aft and wheel house are located fore. The vessel is suitable for carrying coal, with one consummate self-loading system, of which the coal discharging rate could be 2000t/h. And the carrier navigates in inland waterway.
The vessel is provided with two (2) cargo holds, which are abutted on each other. And continuous
hatch coaming, with a height of 3m, is provided for the cargo holds. The cross section of the whole cargo hold bottom is as V shape, One (1) longitudinal discharging hatches are arranged at the bottom P&S, conveyer belt is provided under each hatch, which could transfer the cargo to the stem, and then after one transfer to reach the transfer arm located stem. The transfer arm is 30m long, and could turn to the left and fore, and the elevation could reach 18°(which could reach 22°at the most). It finally transfers the cargo to the adjacent vessel or to the wharf which is at least 13m high above the water level.
Particulars
Length, overall abt. 84.60m
Length,b.p. 82.00m
Breadth, moulded 16.80m
Depth, moulded 5.30m
Designed draft 3.80m
DWT at Td abt. 3050MT
Complement 12p
Tank Capacity
Hold (including stacking) abt. 3600m3
Marine diesel oil tanks abt. 30m3
Fresh water tanks abt. 20m3
Main engine
Main engine KTA38-M0 ×2 set
MCR 559kW x1600rpm
CSR (90% MCR) 503kw x 1544rpm
Propeller Fixed pitch propeller
generator set
No. of special generator set & power Abt. 400kWx1500rpm x 1 set
Electric source A.C three phase, 400V, 50HZ.
No. of main generator set & power Abt. 50kWx1500rpm x 2 sets
Electric source A.C three phase, 400V,50HZ.
The diesel generator set burns MDO.
Speed 10 knots
Classification RINA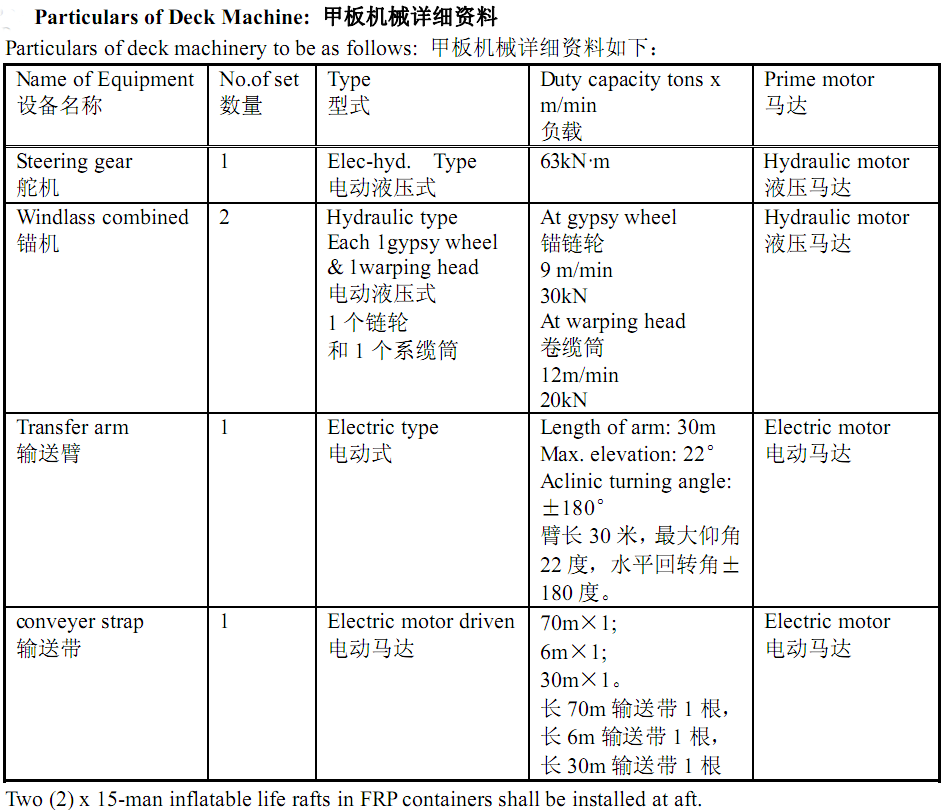 Self discharge Cargo System
One set of self discharge cargo control system to be installed in wheelhouse.
The starter for conveying belt motor is supplied by work switchboard. And the coordinated control program among conveying belt motors to be provided.
The control program of discharge operating condition and maintain shall be provided respectively.
Under discharge condition, if the conveying belt motor on top part has been started, the conveying belt
motor in cargo hold will be permitted to start. Under normal stop condition, if the conveying belt motor
in cargo hold part has been stopped, the conveying belt motor on top part will be permitted to stop.
Under maintain condition, any conveying belt motor can be start and stop singly.