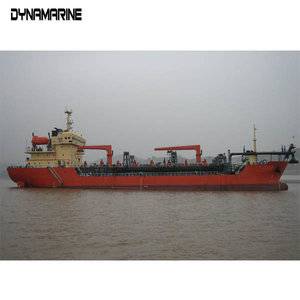 Trailing Suction Hopper Dredger supplier
Product Details
Description of Ship
5500 m3 Trailing Suction Hopper Dredger
The vessel is designed as a self-navigated Suction Dredger suitable to scour port and channel,encircle sea,blow/fill and build land and worked for costal area.
This vessel is a self-propelled trailing suction hopper dredger of full steel welded, streamline and round-bilge hull with twin screw, double rake, single deck,bulb bow and double skegs. It can navigate
in unrestricted navigation area and operate in greater coastal area.
Principal Particulars
Main dimensions
L.O.A.: ABT105.00M
L.B.P: 95.20M
Breadth: 19.00M
Design draft: 7.24M
Depth,moulded: 8.00M
Design draft: 6.00M
Max Dredging DEPTH:27.00M
Complement: 30P
Navigation speed 11Kn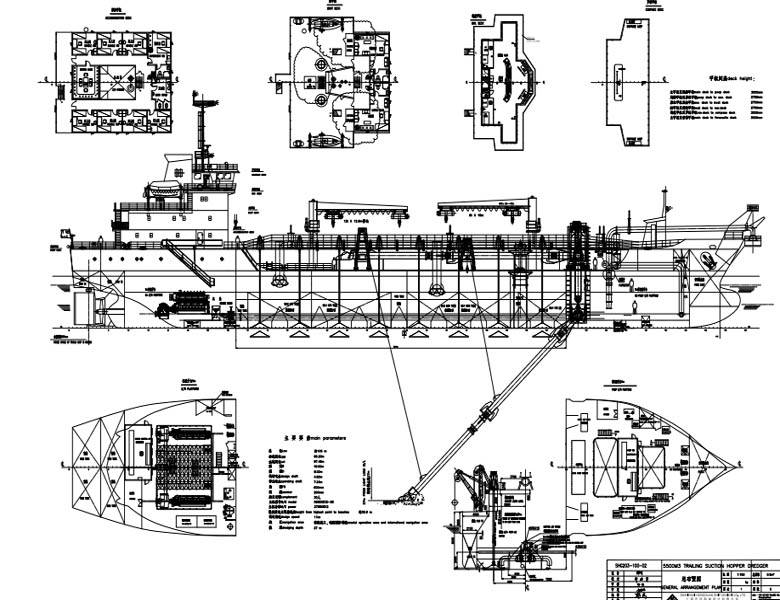 machinery Part
Power equipment
Use diesel engine of individual driving propeller,dredge pump and high pressure jet water pump.
The power equipment are as follows:
Main propulsion engine: 2 X8320ZC2B/3B 2795 kW 600rpm MDO or 20cst oil
Diesel engine of dredge pump: 2xG6300ZC17B 1471 kW 600rpm MDO
Diesel engine of high: 2xZ12V190BC10 900 kW 1450rpm MDO
pressure jet water pump
Diesel engine of generator :set 3 CCFJ396J-M10 400 kW 1000rpm MDO
Diesel engine of emergency generator set :1xCCFJ120Y 120 kW 1500rpm MDO
Parameters of dredge pump
Dredge pump particulars as follows:
Type: centrifugal type with single wall case
Clear water capacity: 10000m3/h
Head: 21.5 m
Shaft power: 735kw
Design loading capacity
Mud loading capacity : 7000t
Light diesel oil : 230t
Heavy oil : 310t (max446.1t)
Lubricating oil : 15t (max72t)
Fresh water : 150t
Supply and stores : 20t
Crew and baggage : 5t
Dredging performance
Max dredging depth
The dredging depth is 27.0m below waterline on the condition of light load when the angle between dredge pipe and water level is 45o
Loading time
The loading time is about 45min when dredging medium fine sand of hardness below middle level and two racks operate together and the dredging depth is 27m.(to be final confirmed by the pump efficiency.)
Hopper capacity
Max hopper capacity is 5500m3,and max mud loading capacity is 7150t.The distance from liquid level to upper edge of hatch coaming is 600mm(the highest position of overflow ladle).
dredge pump
Choose Chinese excellent dredge pumps in order to meet construction requirements.
main parameters of dredge pump
During dredging During self-empty Discharge
Clean water flow 10000m3/h 9000 m3/h
Total head 21.5 m 32m
Speed 240 r/min 260r/min
Shaft power(clear water) 735KW 951KW
Match power 1000KW 1350kw
Suction pipe dia. DN800mm
Discharge pipe dia. DN750mm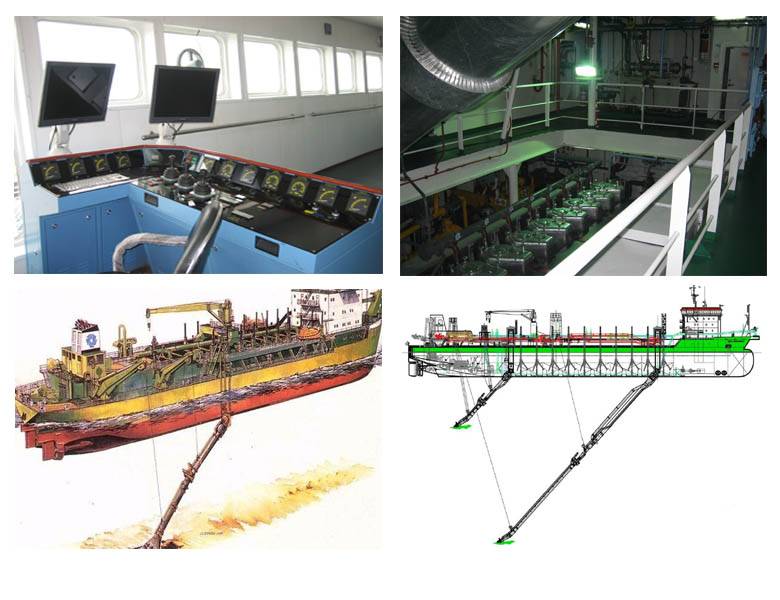 Classfication
This ship can be built under BV,RINA,CCS classification.